The Conseil scolaire du Grand Nord honours its employees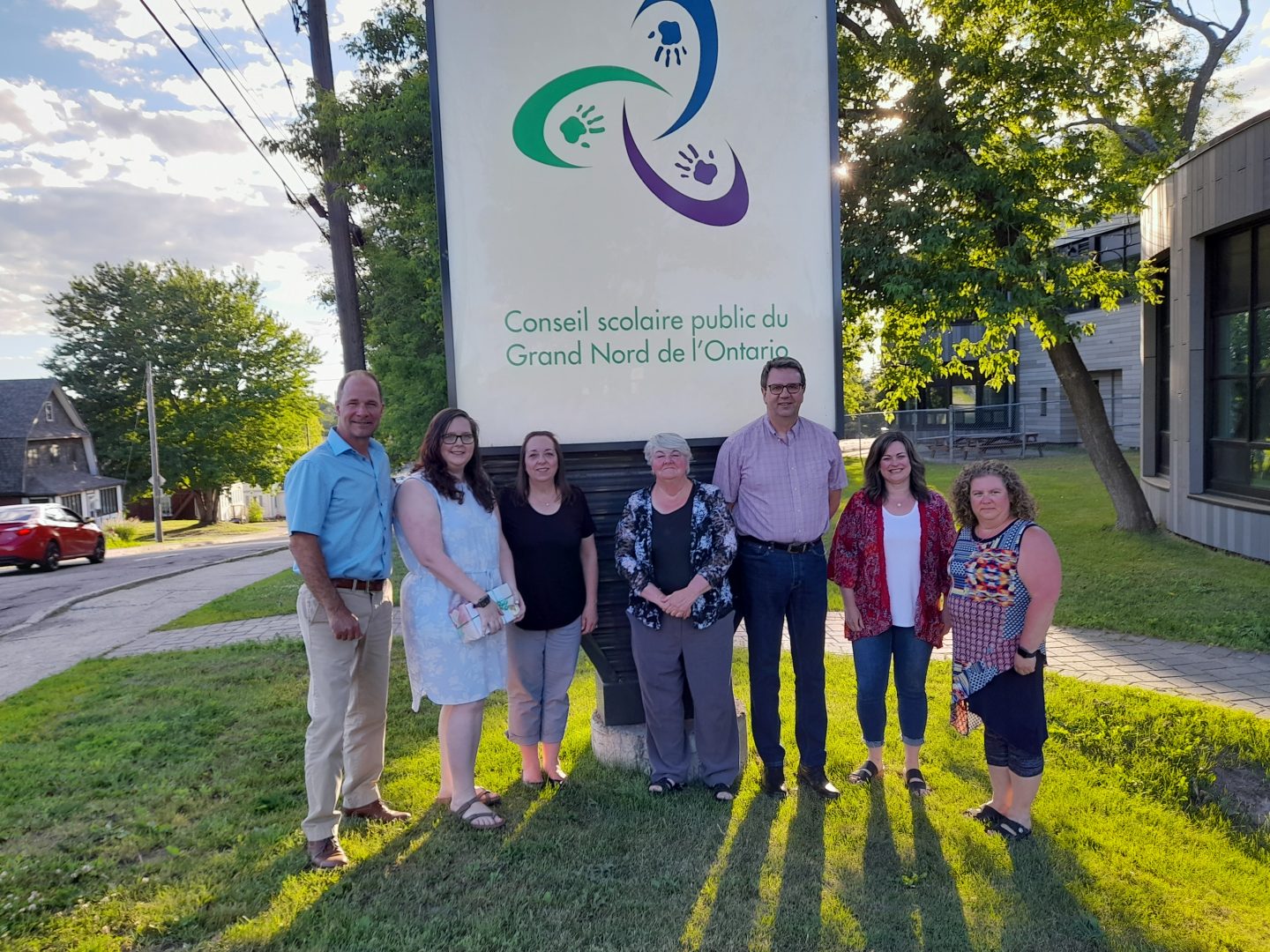 At its regular meeting held in Sudbury on Wednesday, June 22 nd , 2022, the Conseil scolaire public du Grand Nord de l'Ontario (CSPGNO) extended congratulations and thanks to a number of its staff members.
The Board began its meeting by recognizing the staff members who are on the threshold of a new stage in their lives, retirement.
Director of Education Sébastien Fontaine thanked the retiring staff members for their outstanding commitment to students and their remarkable contribution to the school board. The Board recognized the role these persons have played in the lives of countless students and others throughout the school board. They are sources of inspiration for their students and colleagues and they have left their mark in the history of French-language public education in Ontario.
The Conseil scolaire du Grand Nord expresses its warmest thanks to each and every one of these staff members for their exceptional work, which has not gone unnoticed. The Board salutes the following employees and wishes them health and happiness in their well-deserved retirement.
Pauline Beaulac
Michel Bélanger
Jean Bertrand
Tina Butkevich
Michelle Duquette
Nathalie Fortier
Marc Gauthier
Denise Gould
Thérèse Lafortune
Thérèse Legault
Guy Lehoux
Jeannette McGraw
Gisèle Pelland
Nicole Pilote
Colette Rhéaume
Nathalie Ritchie
The Board also recognized the merit and exceptional performance of certain staff members for their contributions to the development of children and youth in Conseil scolaire du Grand Nord schools. Three awards of excellence are presented annually to recognize the work of staff members who, through their attitude and efforts, uphold the school board's mission, vision and values and thus contribute to its success.
The Étoile de l'accueil (Star of Congeniality) Award is presented to a Conseil scolaire du Grand Nord employee who exemplifies the school board's values in the workplace and beyond, in particular the values of respect, appreciation and collaboration. The 2022 Étoile de l'accueil award is presented to Vickie Boucher, secretary at É. p. Foyer-Jeunesse in Hanmer. Hospitality means well-being. Ms. Boucher is always willing to help out to ensure the well-being of those around her. She is always ready to help a student who comes to her office, a parent who is looking for information or an employee who needs a service. Ms. Boucher has a knack for connecting with the people around her. Her joie de vivre is contagious and her energy and good humour inspire her peers to do the same.
The Étoile de l'engagement (Star of Commitment) Award is presented to a Conseil scolaire du Grand Nord employee who displays openness, integrity and ongoing commitment in work-related duties and beyond. The 2022 Étoile de l'engagement award is presented to Ms. Michelle Beach, a teacher at École publique des Villageois in Elliot Lake. Ms. Beach has distinguished herself in her school community by organizing several initiatives not only at her school, but also at É. s. Villa Française des Jeunes. Her unconditional commitment and passion for education is evident and creates a healthy and supportive environment for all. Thanks to her creativity and her many innovative ideas, Ms. Beach knows how to interest students in order to get them to surpass themselves and to have fun in their learning. Her dedication and desire to go the extra mile make her an exceptional role model.
The Étoile de l'innovation (Star of Innovation) Award is presented to a staff member in recognition of leadership and innovative work processes. The 2022 Étoile de l'innovation award is presented to Ms. Suzette Roy, facilitator of the "En français s.v.p!" program. Over the past two years, Ms. Roy has transformed the delivery of her sessions exceptionally well in order to meet the needs of the children. She has developed fun and educational virtual sessions to connect with future students. She has also developed a website where parents can access the program's schedule and resources at any time. Ms. Roy is an excellent ambassador for the board and an asset to the Conseil scolaire du Grand Nord family.
It is with great pleasure that the Conseil scolaire du Grand Nord congratulates the winners of this year's awards of excellence. Their passion and commitment towards the Conseil scolaire du Grand Nord makes them worthy recipients of these prestigious awards.
Recognized for its keen sense of innovation and openness to the world, Conseil scolaire du Grand Nord offers a French-language public education of the highest quality in fourteen elementary schools and eight secondary schools in the communities of Markstay, Noëlville, Greater Sudbury, Blind River, Elliot Lake, Sault Ste. Marie, Wawa, Dubreuilville, Marathon, Manitouwadge and Longlac.
-30-