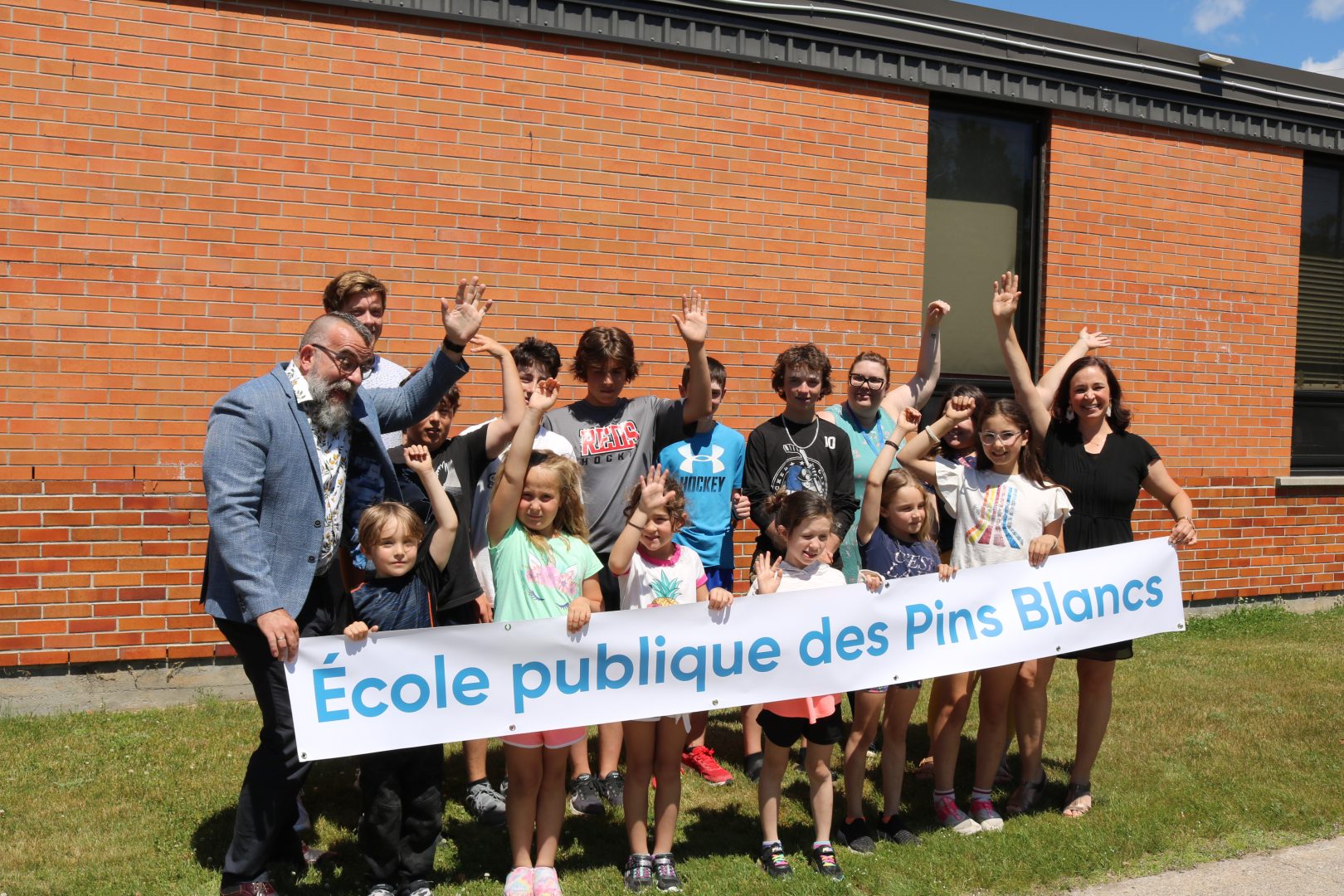 École publique de Blind River unveils new name
Today, students and staff along with Director of Education, Mr. Sébastien Fontaine unveiled the new name for École publique de Blind River.
During the school year, students, staff and the school community were invited to suggest a name for their new school. Following the consultation with the school community, the name École publique des Pins Blancs was chosen by students, parents and staff.
Symbolically, the choice of the name École publique des Pins Blancs refers to the history of the development of the community of Blind River. The community was founded in 1906 as a result of the lumber and sawmill industry. In the 1950s, McFadden Lumber in Blind River was the largest white pine mill in the world. The surrounding rivers were used to transport the wood. Today, residents of this community still enjoy nature and take trips into the vast forest and the many trails, filled with these majestic trees.
The school opened its doors in September 2021. Located at 147 Woodward Avenue in Blind River, the school promotes the development of each student. The school serves children in grades K-8 and offers small classrooms where the child is valued and appreciated daily. The school's educational approach exposes students to technology and experiential learning and promotes the acquisition of skills that enable students to develop their independence.
Parents wishing to register their children for the upcoming school year can contact the school at 705-356-3333 or visit the websites https://grandnord.ca/ or https://epbr.grandnord.ca/ to consult the registration procedures.
 Recognized for its keen sense of innovation and openness to the world, Conseil scolaire du Grand Nord offers a French-language public education of the highest quality in fourteen elementary schools and eight secondary schools in the communities of Markstay, Noëlville, Greater Sudbury, Blind River, Elliot Lake, Sault Ste. Marie, Wawa, Dubreuilville, Marathon, Manitouwadge and Longlac.
-30-